Home Prices Up 6.49% Across the Country, But Down In LA #TimeToSell #ChrisBJohnsonRealtor
: #Sell Your Home For More and Pay Less #Time To Sell #ChrisBJohnsonRealtor #Sellers Pay ZERO Commission #List Your Home & Pay No Commission #Better ...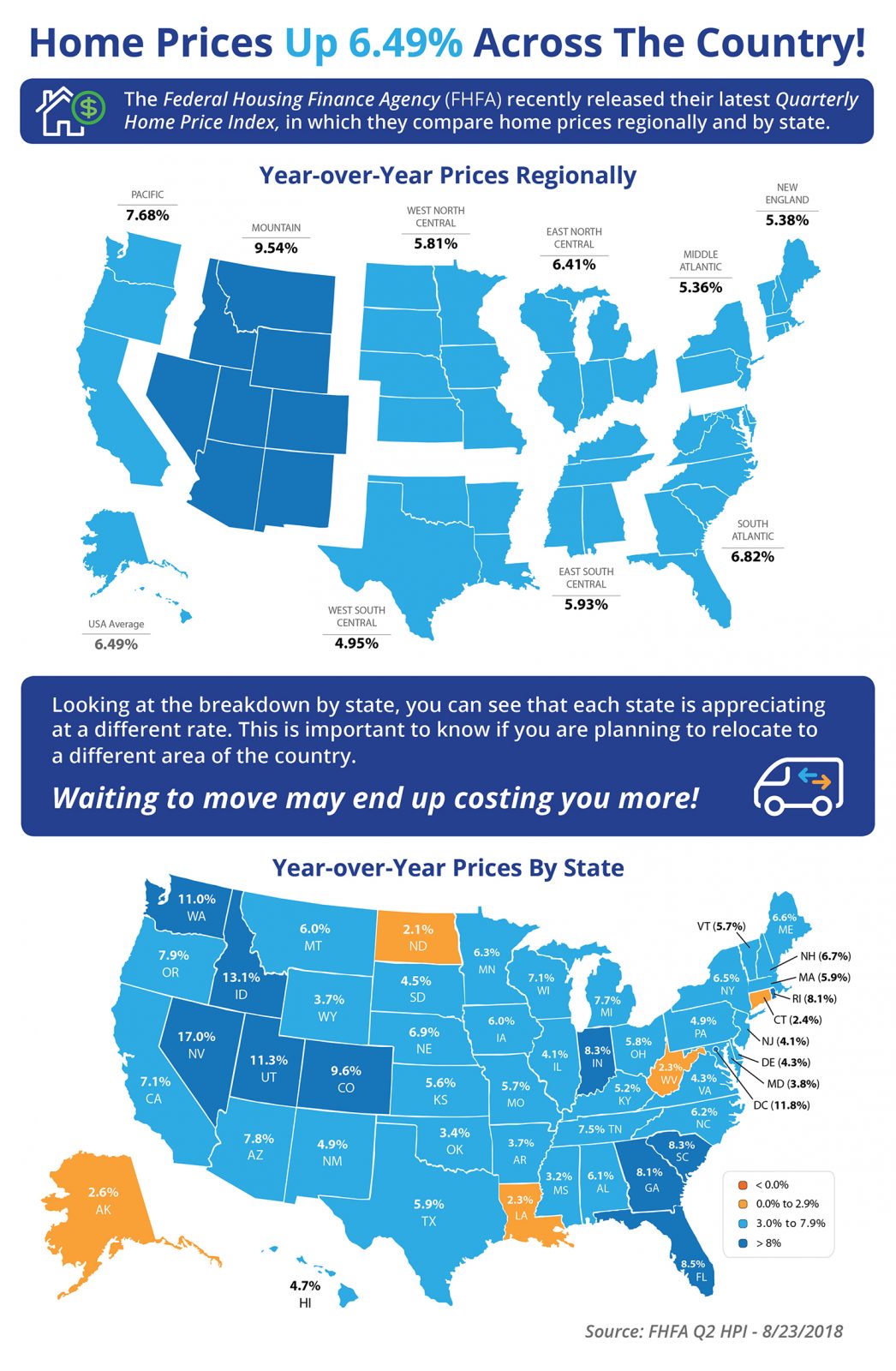 Some Highlights:
The Federal Housing Finance Agency (FHFA) recently released their latest quarterly Home Price Index report.
In the report, home prices are compared both regionally and by state.
Based on the latest numbers, if you plan on relocating to another state, waiting to move may end up costing you more!
California home sales began to show some softening in recent months as sales of existing single-family homes declined on a year-over-year for the third consecutive month. July home sales dropped to the lowest level since February 2017, and sales activity at the state level dipped below 2017's level after the first seven months of the year. Several factors contributed to the softening of the market: interest rate volatility, sales being pulled forward in anticipation of higher rates in the future, and the continuous constraint in housing supply. The erosion of affordability, however, is really what's driving the market.
With the statewide median home price averaging an annual increase of 8.6 percent, the housing affordability index (HAI) – an indicator that measures the share of households that can afford to buy a median-priced home, continued its downward trend in the latest quarter. The state HAI, in fact, dipped to the lowest point since Q1 2008, dropping to 26 percent from 31 percent in Q1 2018, and from 29 percent in Q2 2017. Looking at it from the consumer perspective, the monthly mortgage payment (including taxes and insurance) for a median-priced home jumped 13.4 percent to $3,160 in Q2 2018 from $2,770 a year ago. The minimum income required to buy such a home also surged to $126,490 from $110,890.
While wage growth has made some decent progress this year, price appreciation combined with interest rate hikes continued to outpace gains in income. As such, housing affordability continued to erode and many potential buyers who cannot keep up with price growth simply put their American Dream on hold, hoping that prices will come down eventually. Sales declined as a result, and the slowdown is especially obvious in the lower to mid-tier price segments where affordability took the hardest hit. The softening of the market in recent months also reflects the mismatch in price expectations between buyers and sellers. Housing affordability may not be the primary reason that prevents all potential buyers to make the leap to buy, but some are unwilling to do so as they believe list prices in general are well above their market values. Sellers, meanwhile, do not voluntarily adjust their list price as long as the market remains competitive. As home prices continue to climb while interest rates rise, the gap in price expectation between buyers and sellers widens. This mismatch is another reason for the sales decline as buyers and sellers were unwilling to come to the table to discuss the price difference. If prolonged, this could hold back sales demand and the weakening in home sales could linger on for a while.
The information contained, and the opinions expressed, in this article are not intended to be construed as investment advice. Keeping Current Matters, Inc. does not guarantee or warrant the accuracy or completeness of the information or opinions contained herein. Nothing herein should be construed as investment advice. You should always conduct your own research and due diligence and obtain professional advice before making any investment decision. Keeping Current Matters, Inc. will not be liable for any loss or damage caused by your reliance on the information or opinions contained herein.